Duck Pond (December 2013)
A game made for
Ludum Dare 28. Eat food, hatch eggs, and protect your ducklings from predators!
Lean Mikey's Mega Muscles with Lean Mikey (August 2013)
A game made for
Ludum Dare 27 in 48 hours with the theme "10 Seconds". Lean Mikey shows you how to work out to impress the ladies!
Download
Farm Dog (July 2013)
A game made for
the GameBoy Jam. Play as a farm dog who helps his blind owner aim his gun to fend off rodents from eating his crops.
(Tie One Woman to a Train Track and Suddenly) I'm the Badguy (December 2012) - Windows
A game made for
Ludum Dare 25
in 48 hours with the theme "You are the Villain.". Avoid cops, tie women to train tracks, and laugh your way to the top of the score board!
Contest Entry Page
Contest Results
Download
Fins & Flippers (October 2012) - XBox 360, Windows
Fins & Flippers is a competitive multiplayer party arcade game. Up to eight players take control of undersea divers as they attempt to fling the most fish in their boat using their elastic harpoon guns. Watch out for sharks as they lurk through the waters searching for fresh prey! Win the match by mastering your fish catching techniques or by swinging the other team's divers around and feed them to the sharks! A succesful fishing team's strategy and tactics will have to adapt to the constantly changing playing field, as a variety of elements such as mines, electric eels, treasure chests, and more may appear in the deep waters of Fins & Flippers.
Installation based only. Public release currently unavailable. If you'd like the game at your party invite us over!
The Chicken Bandit (November 2011) - Android
A western side-scrolling action game that gives you the chance to experience the age-old struggle between cowboy and robot. Play as a lone cowboy accompanied only by his over-sized chicken sidekick as you travel from land to land robbing trains and lassoing up as much loot as possible. You will face an army of robots bent on collecting the bounty on your head as you journey from the peaceful grassy plains to the depths of the dark robot city, where your chicken friends are being held prisoner. Along the way you will discover new lands, purchase items/upgrades, encounter dangerous boss battles, and square off in high-stakes quick draw duels. So what are you waiting for partner? Saddle up and start your adventure!
Download
Website
City of Doom (December 2010) - Windows



Climb to the top of the tower while fighting off swarms of alien bugs attacking you. Fight your way through many stories and 3 bosses using 3 different types of weapons. This is another re-envisioning of an Action 52 game with the same name (see MashMan description below.)
Download
Mash Man (June 2010) - Windows
Mash Man is a short story based platformer made for the
Action 52 Owns
game jam over at
Tigsource.
It is a re-envisioning of an
old crappy game
for NES (part of Action 52) with the same name.
Download
Playthough Video
Angry Boulders Android (March 2010) - Android

A small game we made for Google Android. It's a remake of the old PC version of Angry Boulders but with better graphics and a few extra little things.
Gameplay Video
Available for download in the Android Market (free).
Bravehorse (April 2008) - Windows

The Princess has been stolen by horrible monsters. You are the only horse brave enough to face them, head o
n. Fight your way through hordes of monsters, in an attempt to rescue her.
Download
Video runthrough
Broken Knuckles (November 2006) - Windows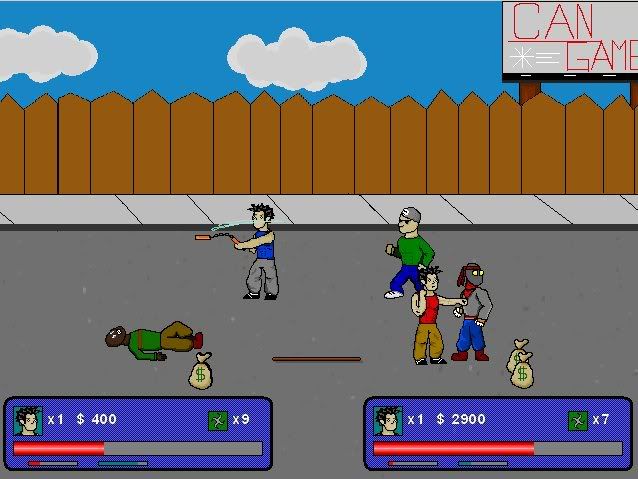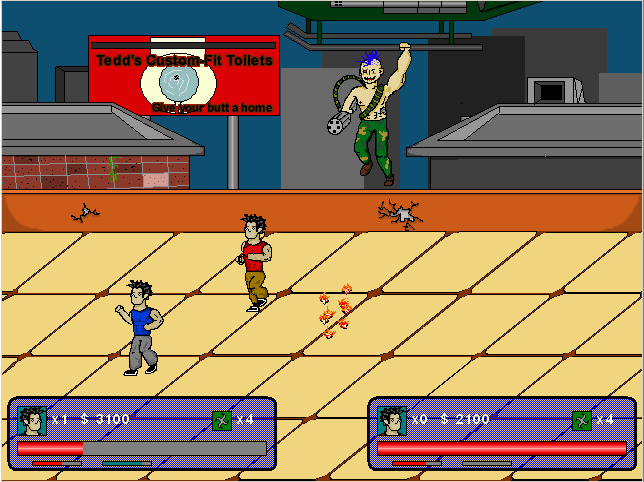 Broken Knuckles is a 2D Side Scrolling Beat'em Up. You take on the role of two brothers who have to save their mother who was kidnapped by a group of thugs known as SID. The brothers soon discover that their mother was kidnapped because she possesses a special jewel with a hidden power. SID wants the jewel for their own evil desires and it is up to you to track them down and stop them!
Angry Boulders (March 2006) - Windows

Help the red spazoid avoid the bugs by crushing them with the three sets of boulders, but be careful not to crush yourself. See how high of a score you can achieve in this addicting fast paced arcade game!
The Six (Demo: March 2008)
- Windows
The Six is an exciting platforming adventure where you play as the number six, which was part of computer code but now broke out and is fighting the very system he was in. You must face off against other digits and strange code creatures as you try to make it to the system's core, with nothing other than your apendeges and your trusty laser gun. The demo includes the first level and a preview of the second level.
This game was abandoned after the demo was released, though we still really like the concept of the game and still want to make another, better, game using this one as a prototype.
Demo Download
Other Projects
Action 52 Owns Launcher, TIGSource Community Project
- Windows
A small launcher for the
TIGSource
Community Project,
Action 52 Owns
. The project was about taking all the terrible games on the original Action 52 cartridge and remaking them into something awesome. The project is still not complete, but this launcher contains all the games that were finished the last time it was updated.
Download